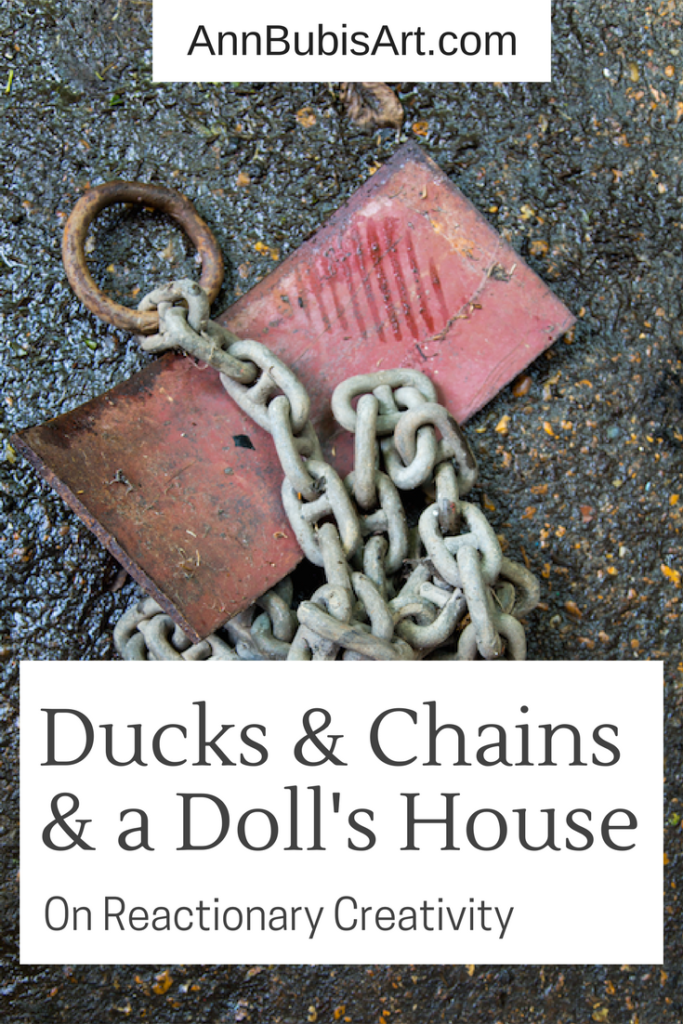 Walk past Ann's studio on an ordinary week and you'll notice how colourful the exterior is, how there are trinkets and treasures hung from the windowsills and placed on every possible surface. It's a scene for inspiration and curiosity and an important setting in which Ann's creative work takes place.
Last week was not such an ordinary week.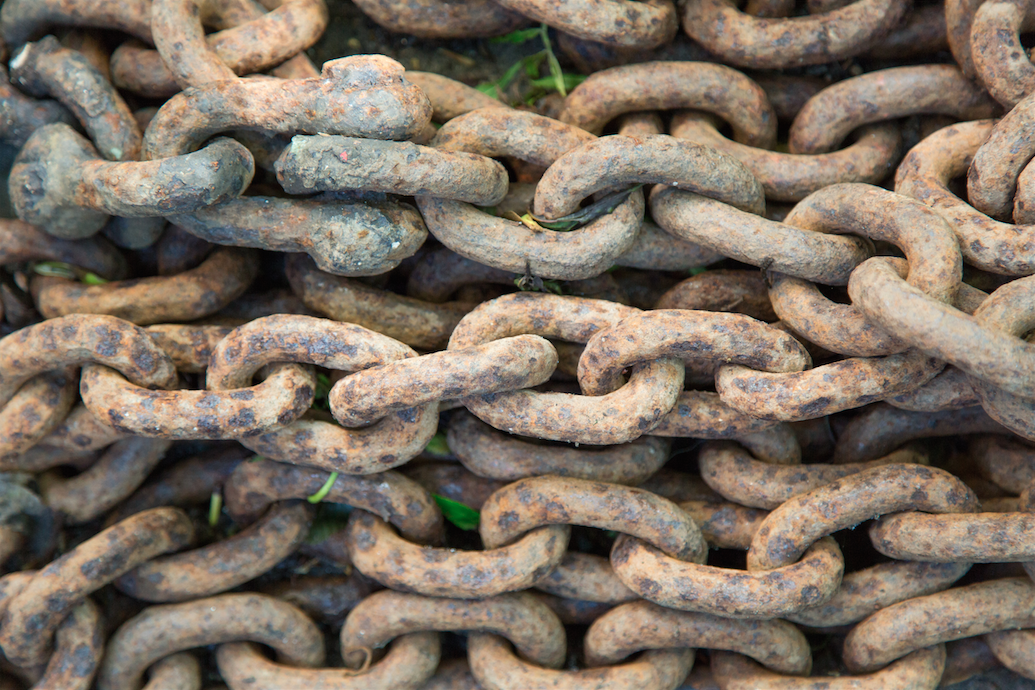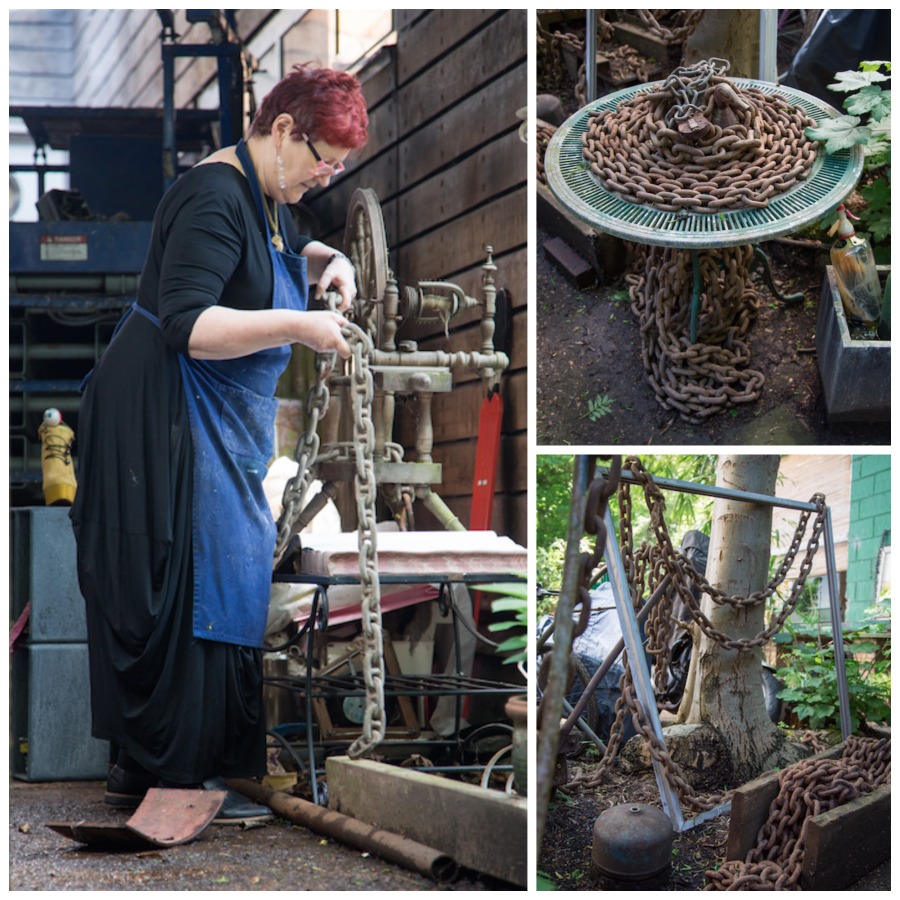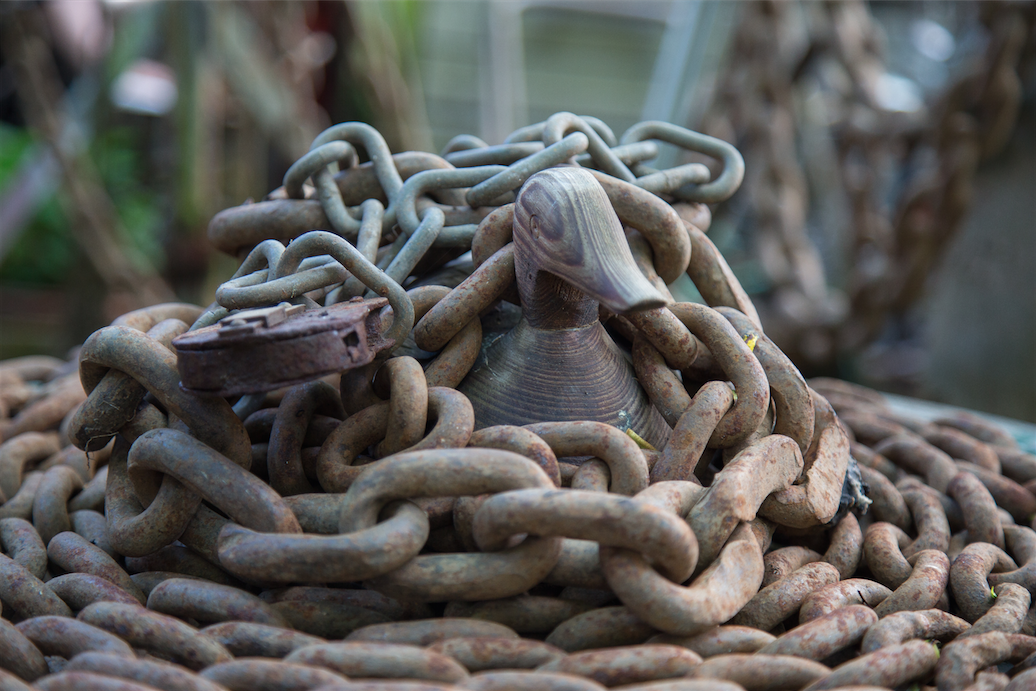 If you walked past Ann's studio last week, you would have found it stripped of its usual playfulness. In place of the bright children's toys and patterned English china were long rusty coils of chains. They were dragged up from the island's shipyard and draped heavily over tables, wound around a wooden duck and snaked across the blank pages of an open book. It was an unusual scene.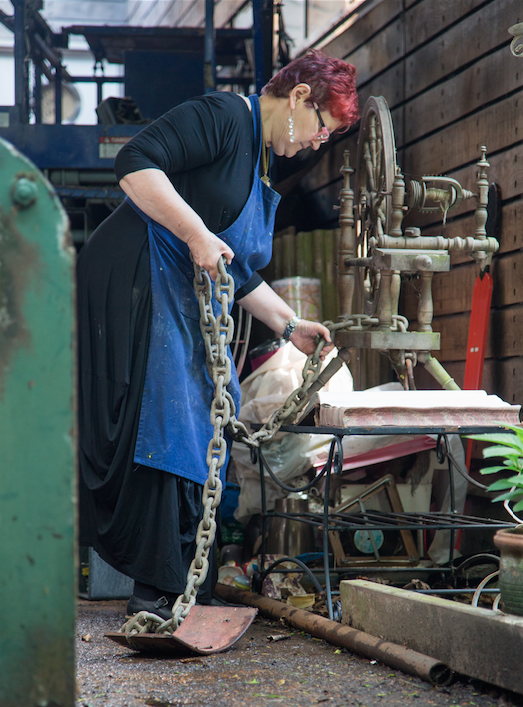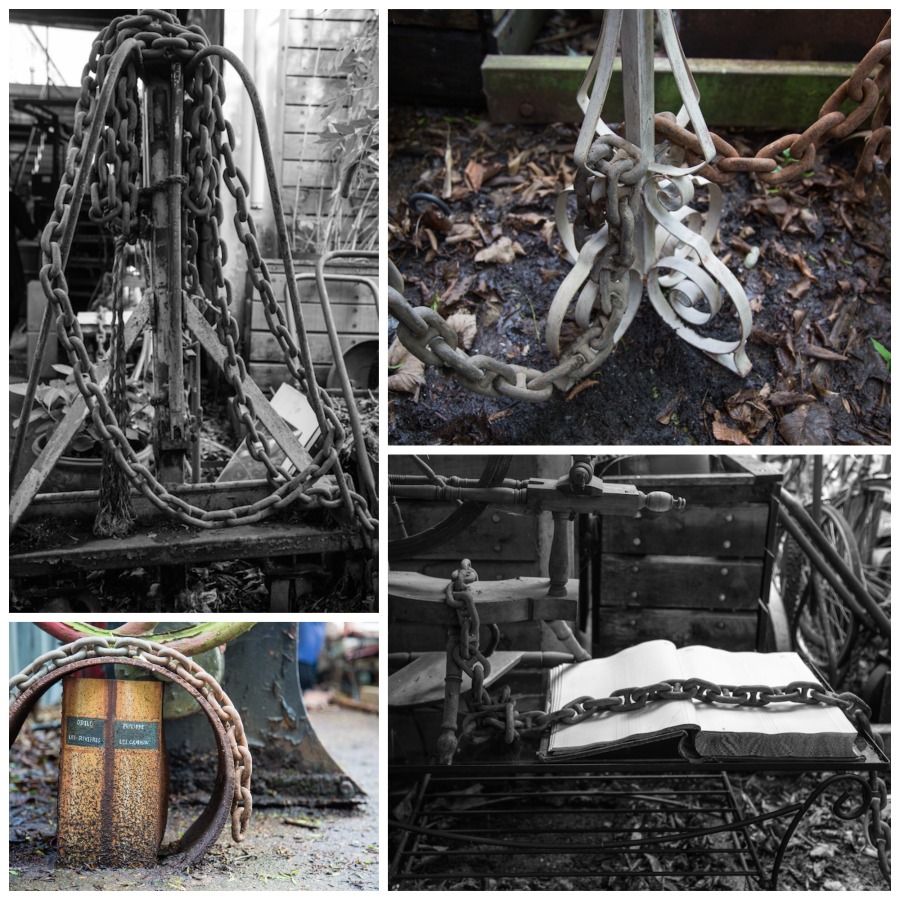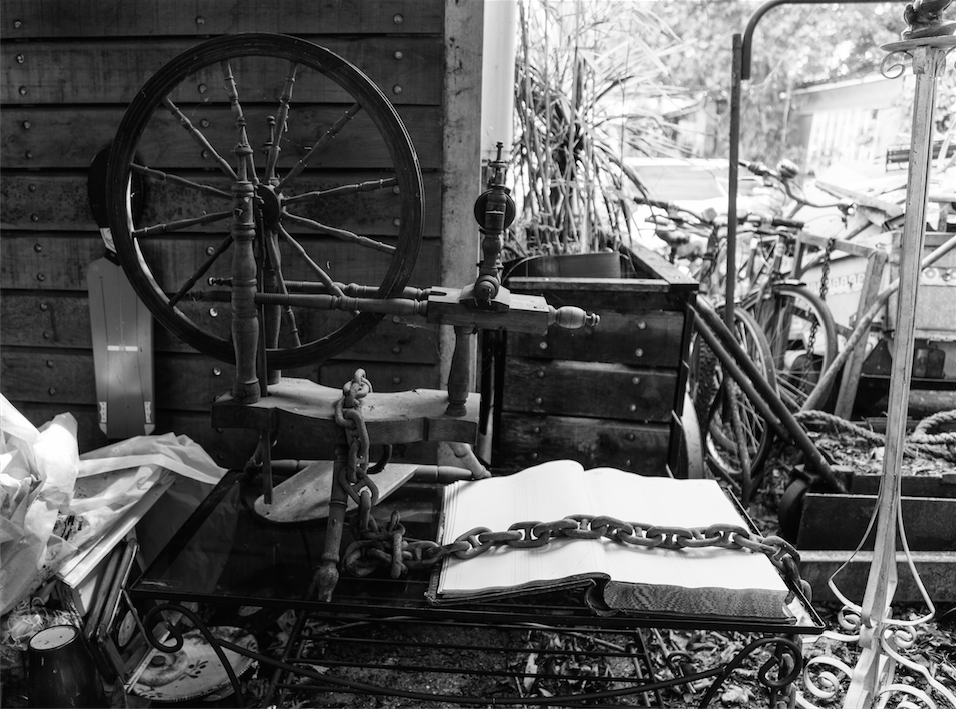 The beauty of Ann's studio is that it's a place for exchange: of kind words, of creative ideas, and very often, of things. People from the island and their visitors will come to give and ask permission to take those quirky knickknacks that give this place its character.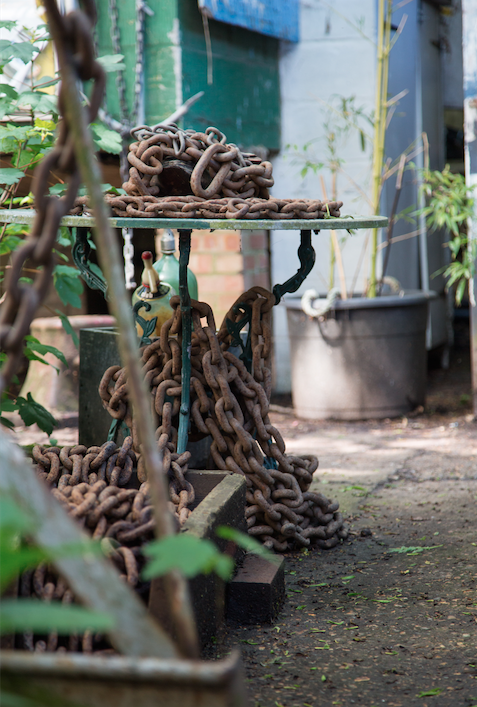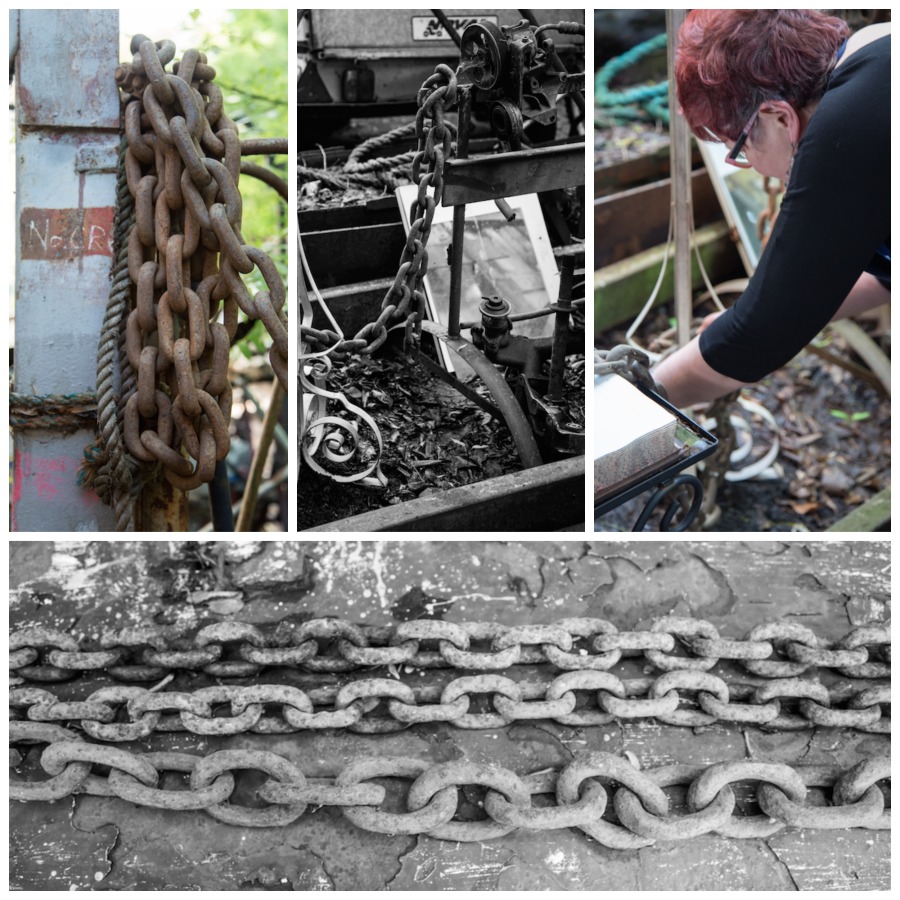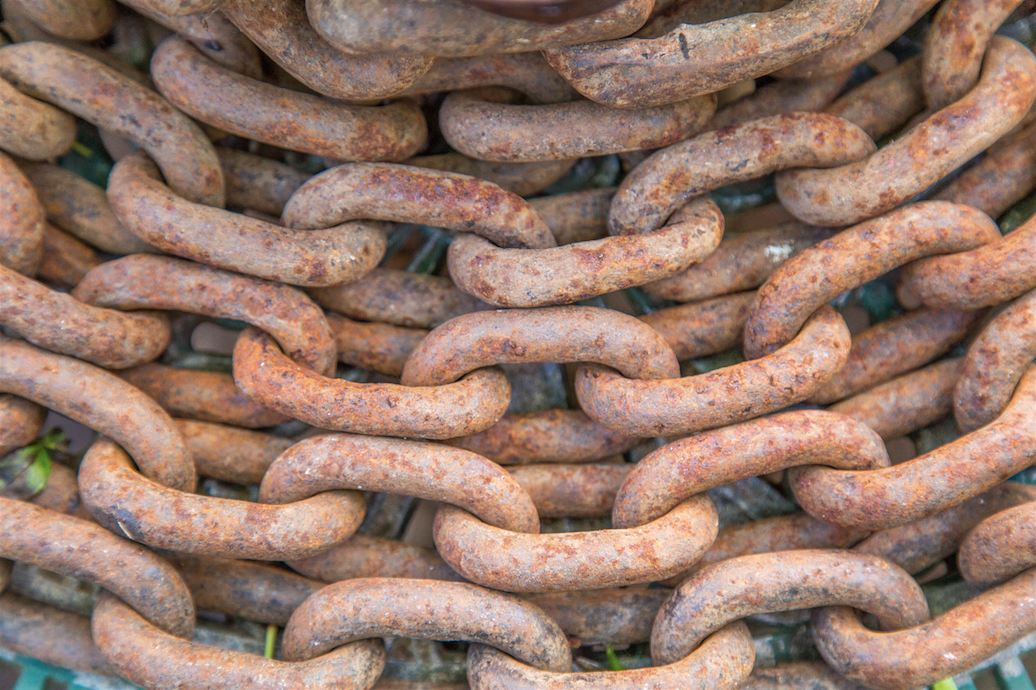 This open interaction with the local community of both artists and boat people is something that Ann welcomes with delight. And so it was with disappointment that she noticed two of her beloved wooden ducks were recently stolen without mention. She posted a polite message on a notice board asking for them to be returned, but unfortunately they were never brought back.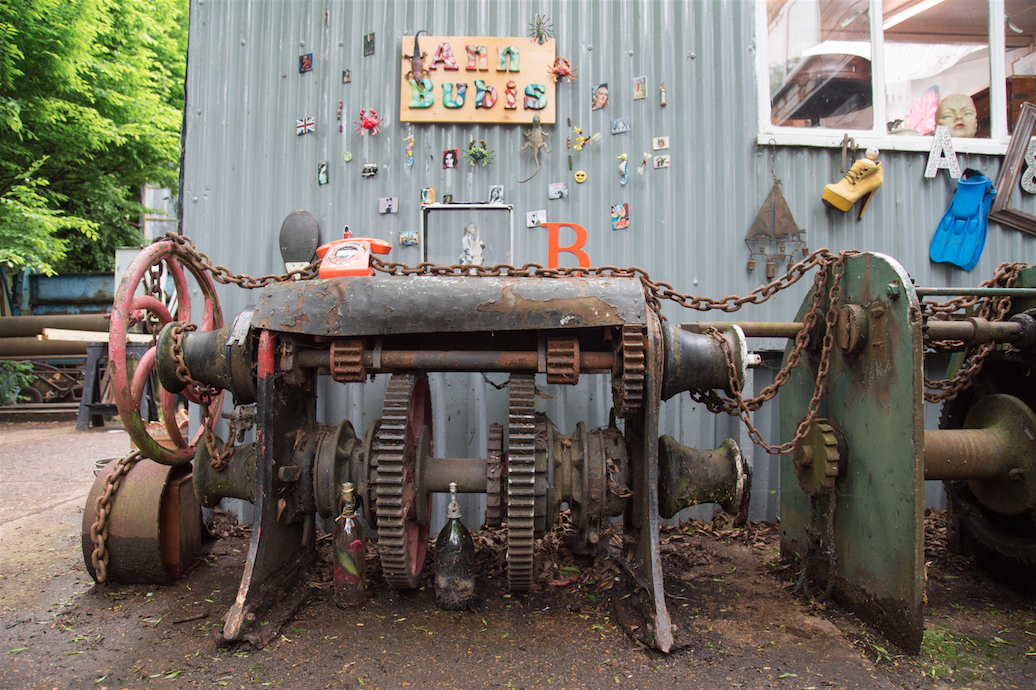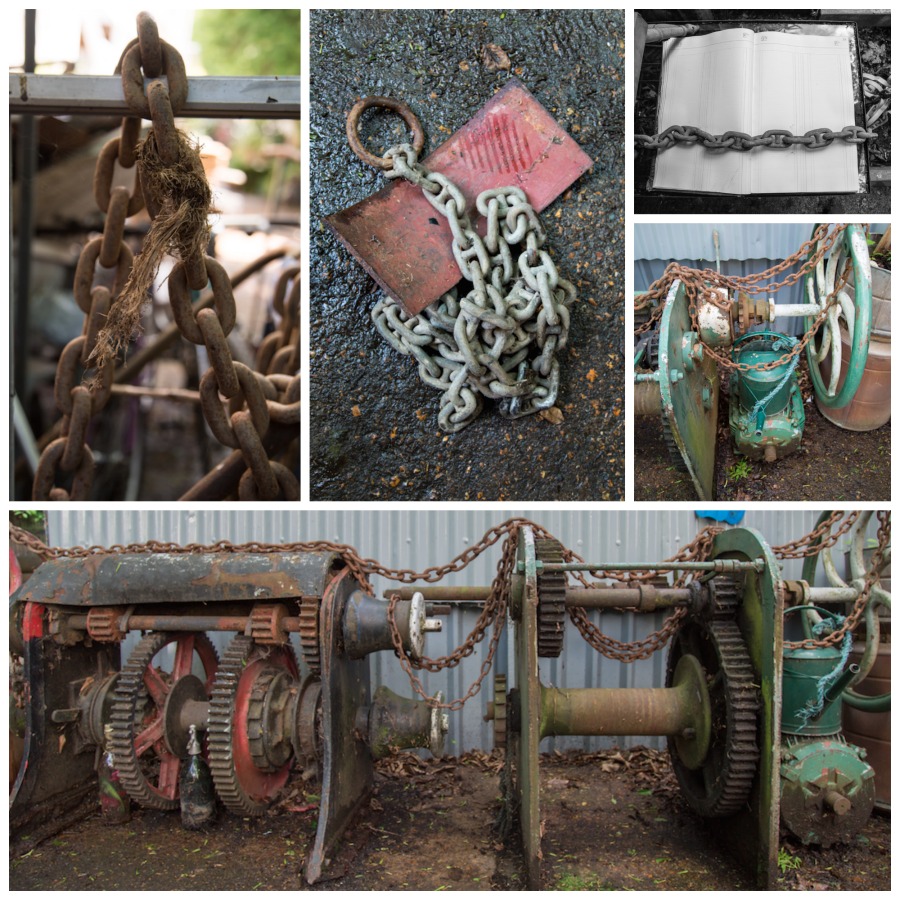 Instead of becoming upset or angry about the situation, she reacted creatively, as is her nature.
Re-designing the space around her studio with hefty chains and removing the colour is a perfect example of how one person's actions can inspire another's creativity. She was also pleased to find that someone else had then reacted to her own reaction by framing the notice board across from her studio with another chain.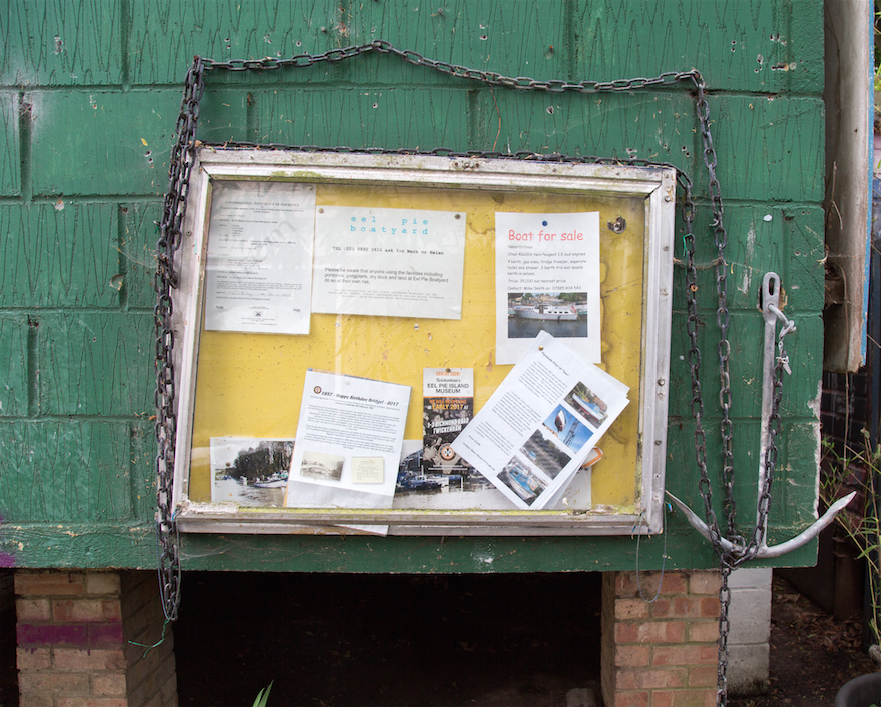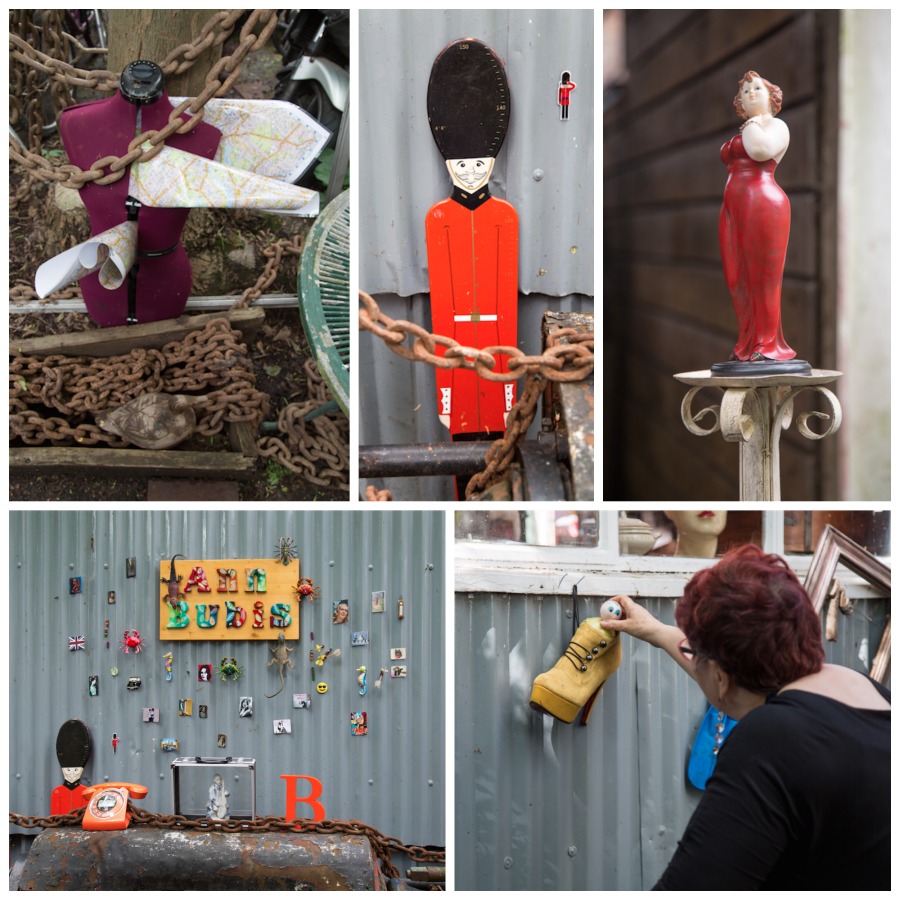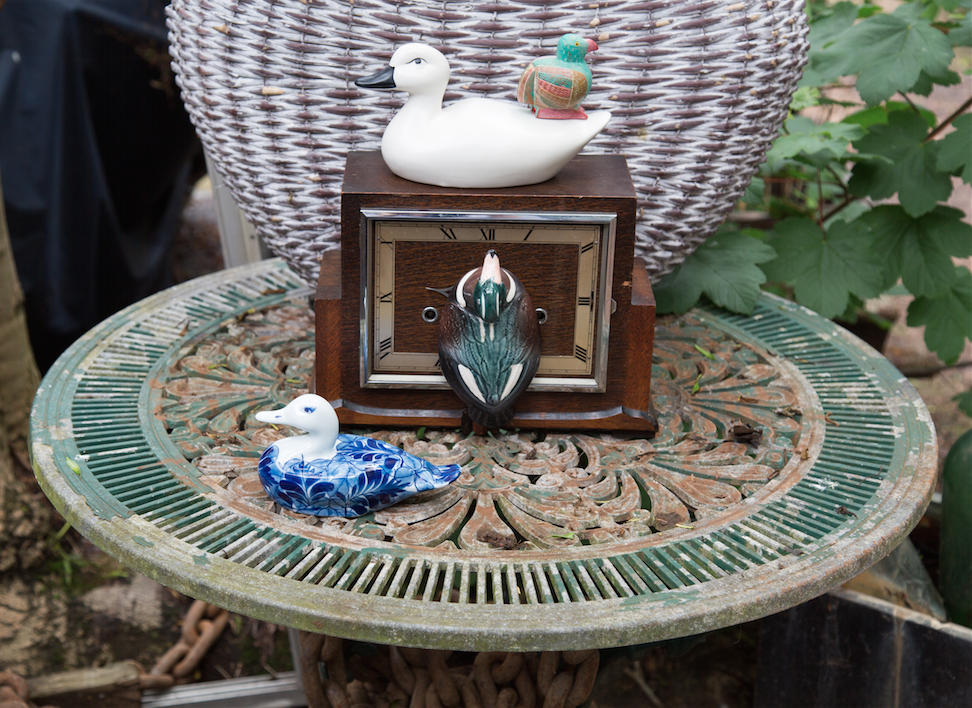 Ann's reactionary creativity then went beyond the chains. She reclaimed her studio by re-decorating the space once more with new items. The bright colours she so adores were back in the form of a magenta coloured mannequin stuffed with laminated maps of London, white-painted wooden fish poked through the spokes of a bicycle wheel and a vibrant yellow shoe hanging from the windowsill. She stuck a variety of vivid magnets on the studio wall featuring everything from Banksy's street art to sea creatures to London icons. There is a table full of ducks, beneath each of which is a bright red sticker that says "This belongs to Ann Bubis."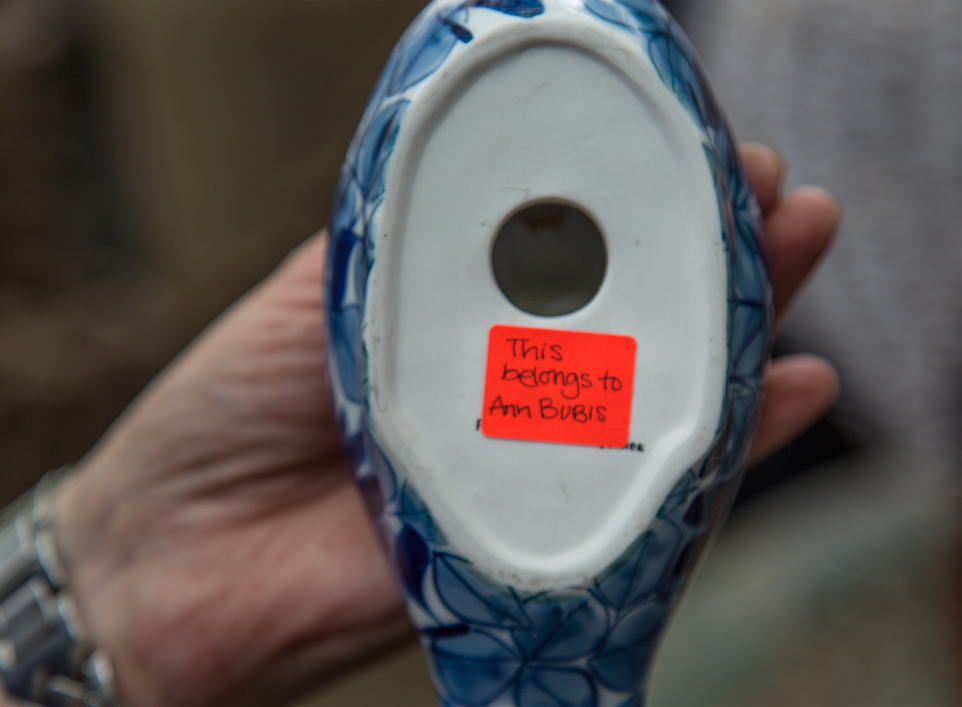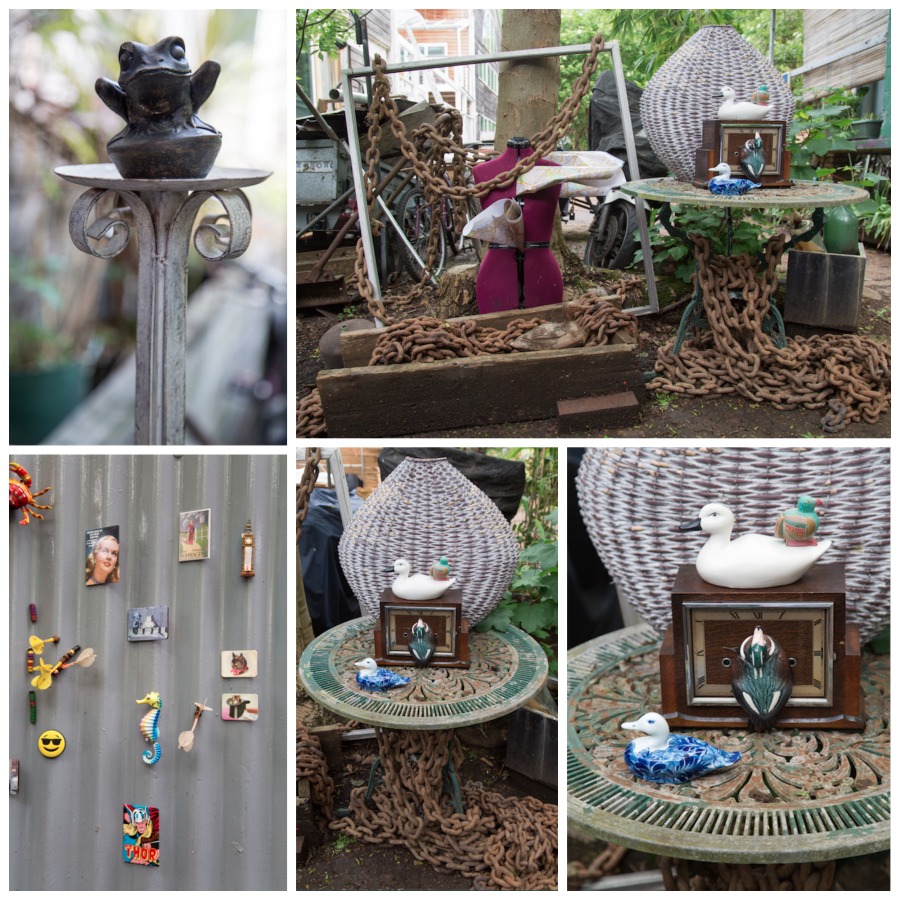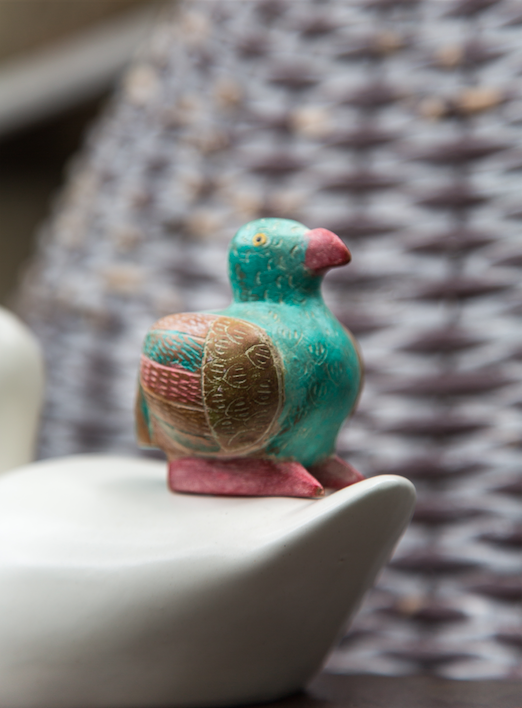 The most impressive addition, however, was of a doll's house.
The door of the house is open, showing four rooms inside. To the inside of the door, the roof, the exterior of the house and each of the rooms, Ann has affixed various bits and pieces that were either gifted to her or found in charity shops.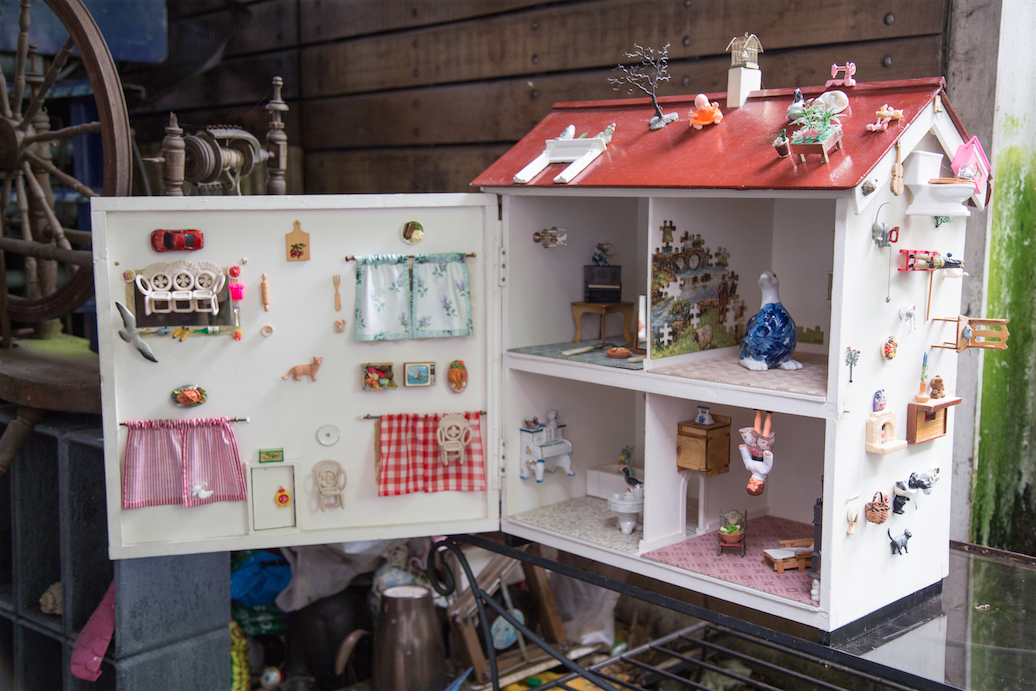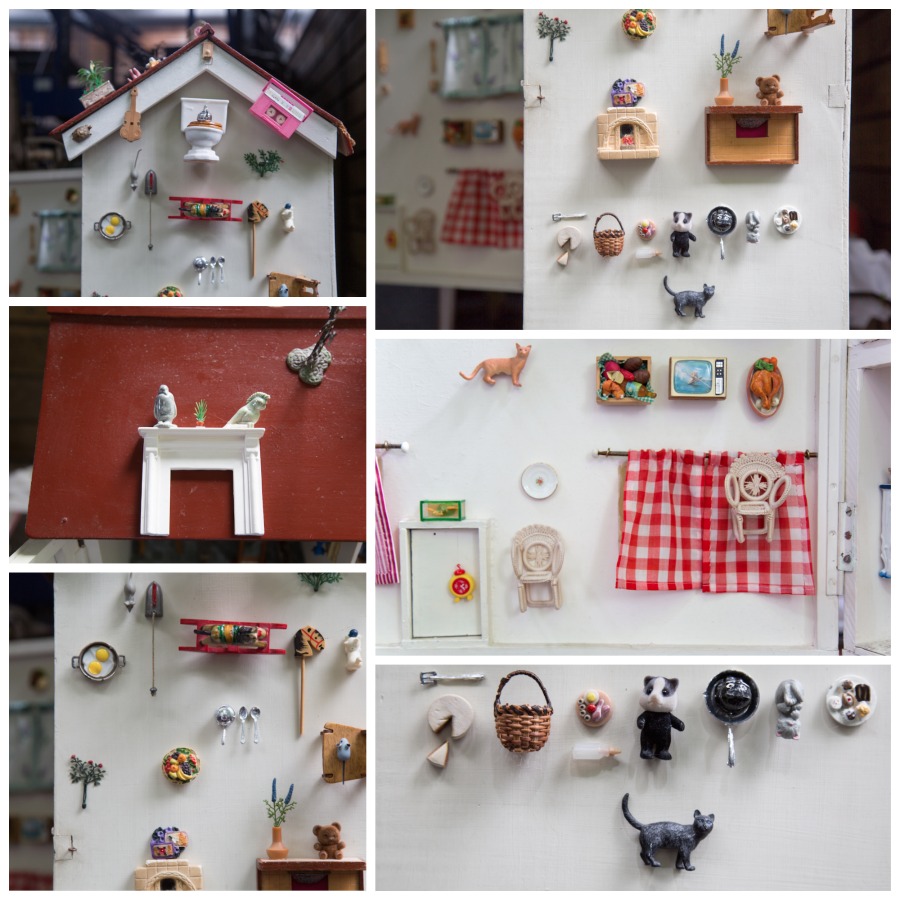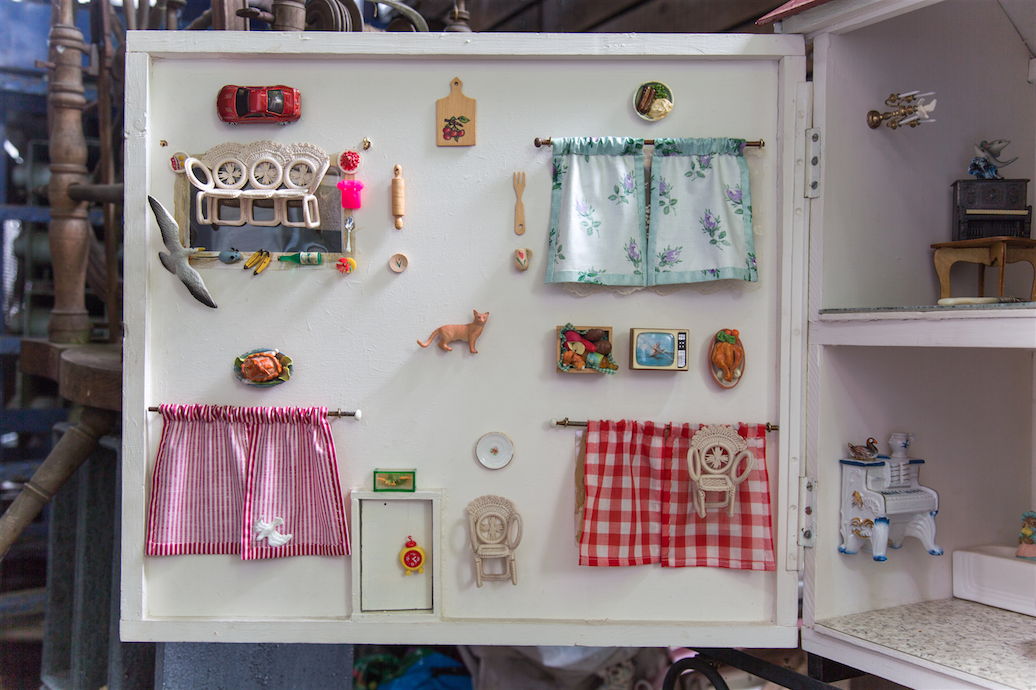 There's a lot to look at here with some re-occurring themes: ducks, food, music and ordinary household items. It appears that these could not easily be taken as they are glued on, but in reality, of course they could be, as could the entire house.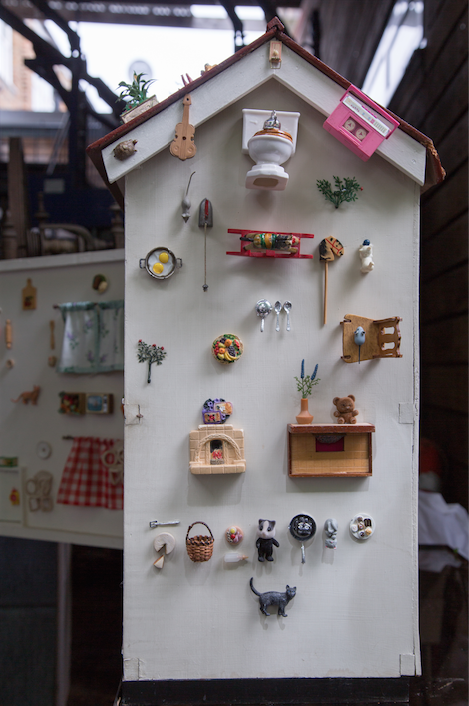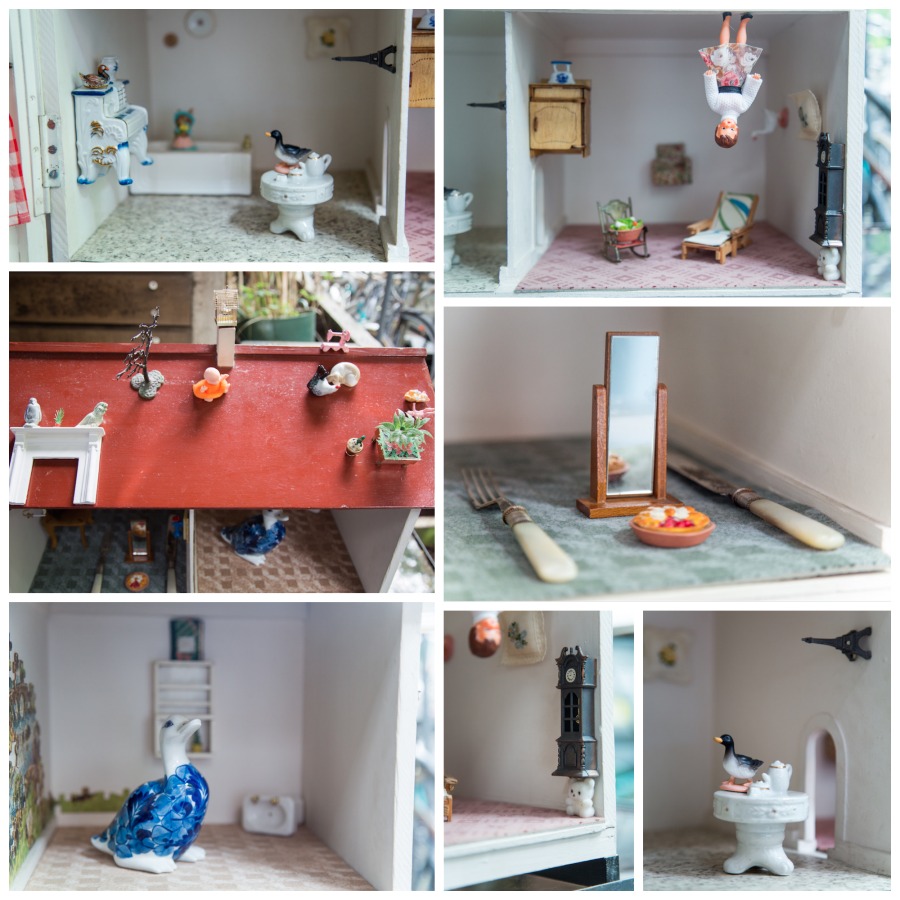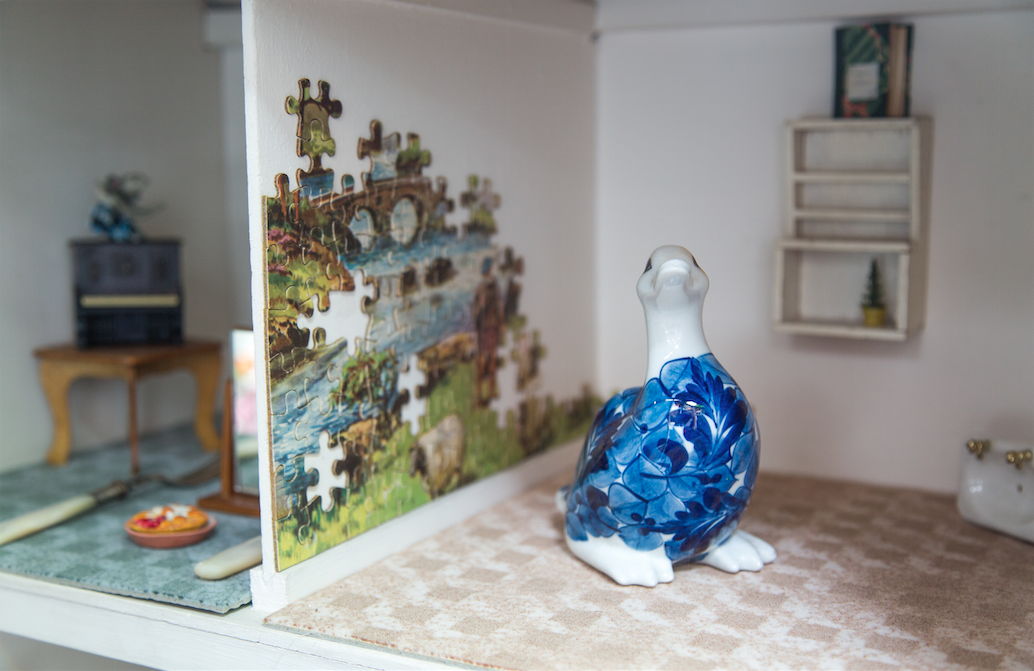 A selection: On the roof, there's a little pink sewing machine, a fireplace with birds and a plant perched on top, a bird in a cage and a tiny doll in an orange dress. In one room, there's a knife and a fork near a pie and a full-length mirror, a candelabra and a piano topped with a dancing mouse. In another, a blue porcelain duck takes centre stage, a river scene from a puzzle with missing pieces decorates one wall and a sink is tipped over in a corner. In a third room, there are more ducks: on a table and on top of another piano, an Eiffel Tower toy jutting from one wall and bathtub in the back corner. The fourth room has a small doll hanging upside-down from the ceiling at the front, another duck, a rocking chair and lounger in the middle and a grandfather clock resting on a bear's head in a corner. On the outside, there's all sorts of food and animals, a toilet with a teapot on the lid, a rocking horse, a guitar and a cassette player.
There are many stories.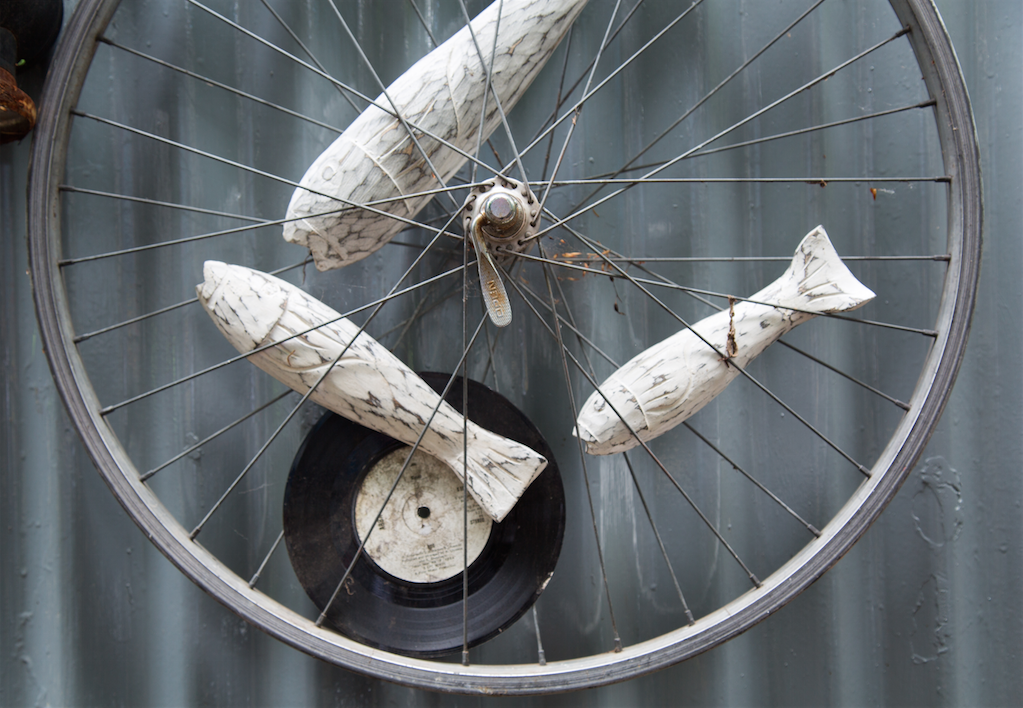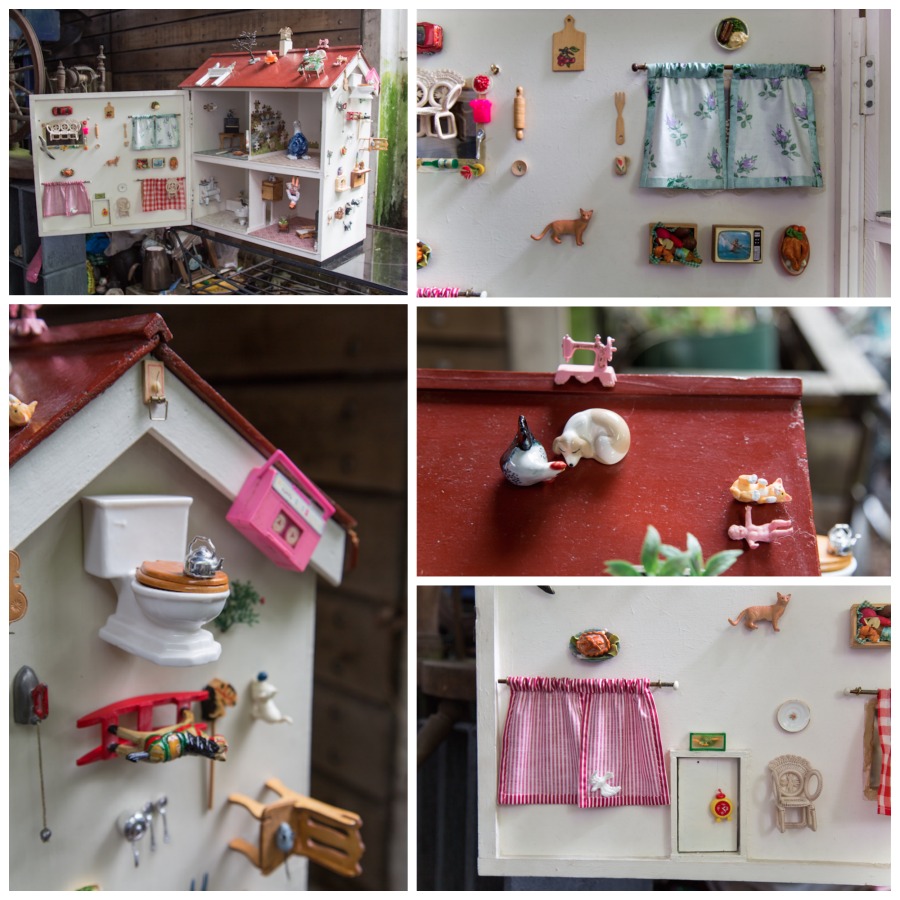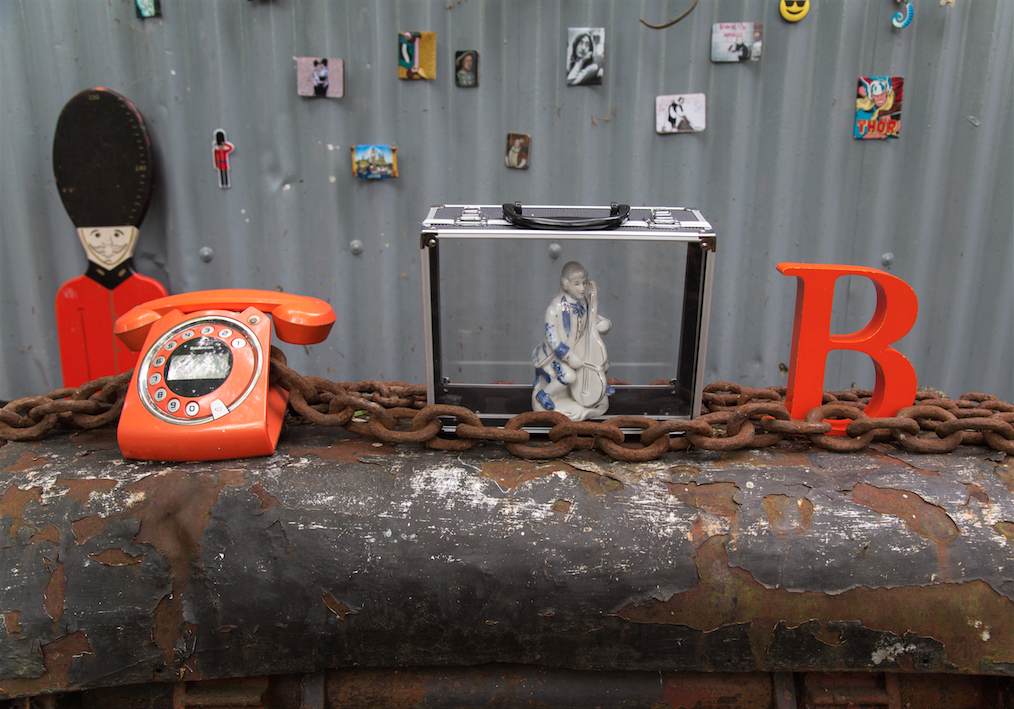 Ultimately, this is a statement that what is on the outside is as important as what is on the inside – a message applicable to Ann's studio space and perhaps the way we present ourselves or interact with others too.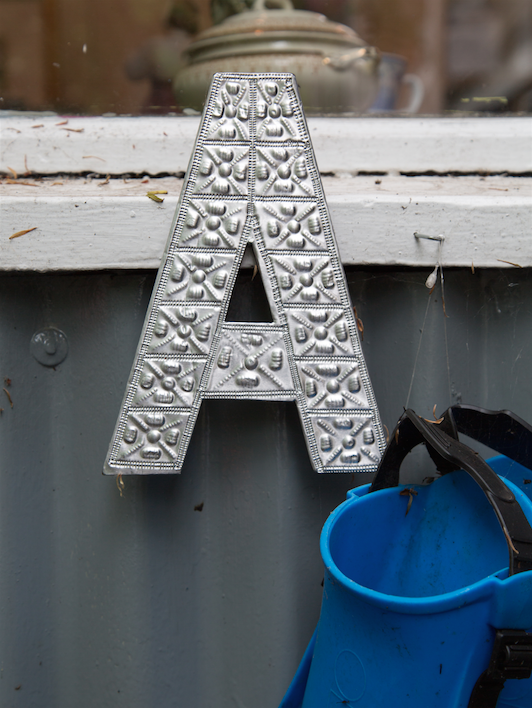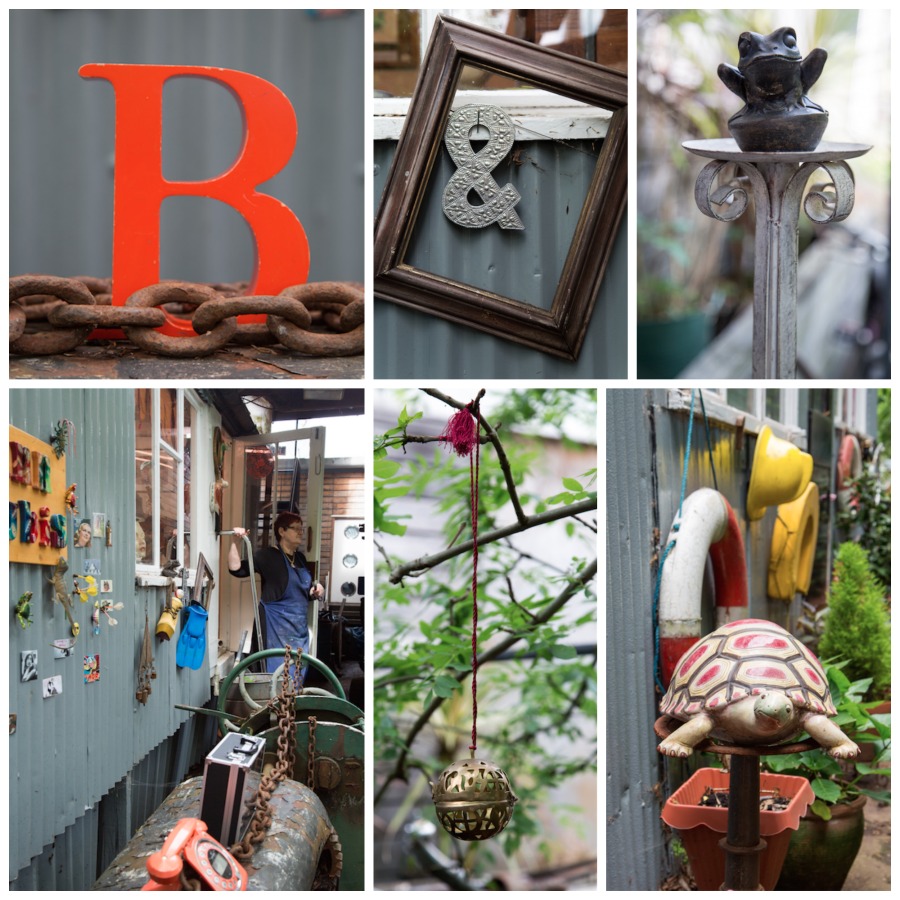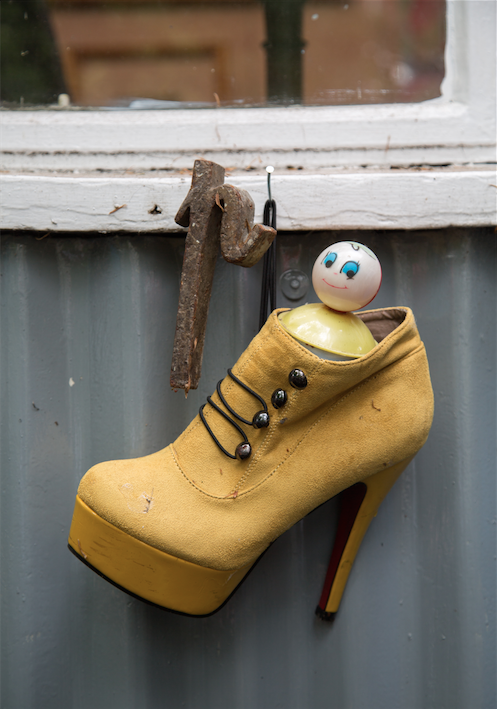 Like all of Ann's work, the transformation of her studio yard including the intricate doll's house goes back to the storytelling that is woven through everything she does. "I make things for people to react to, to make up their own stories about," she said. "My work is for other people to interpret. It's not my story. People often like something I've created because it reminds them of something else in their own life."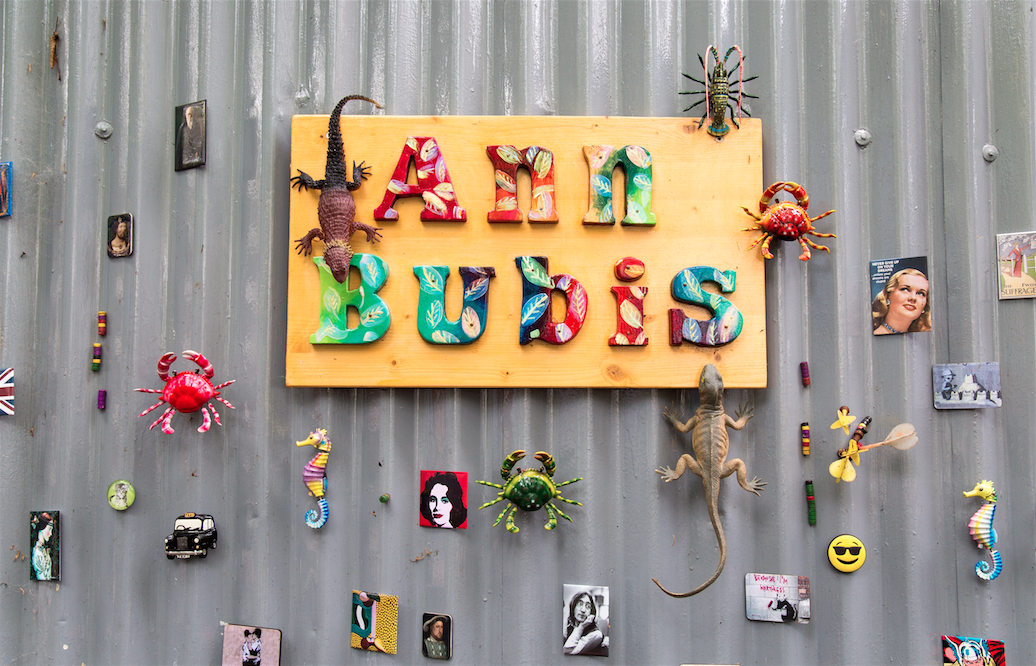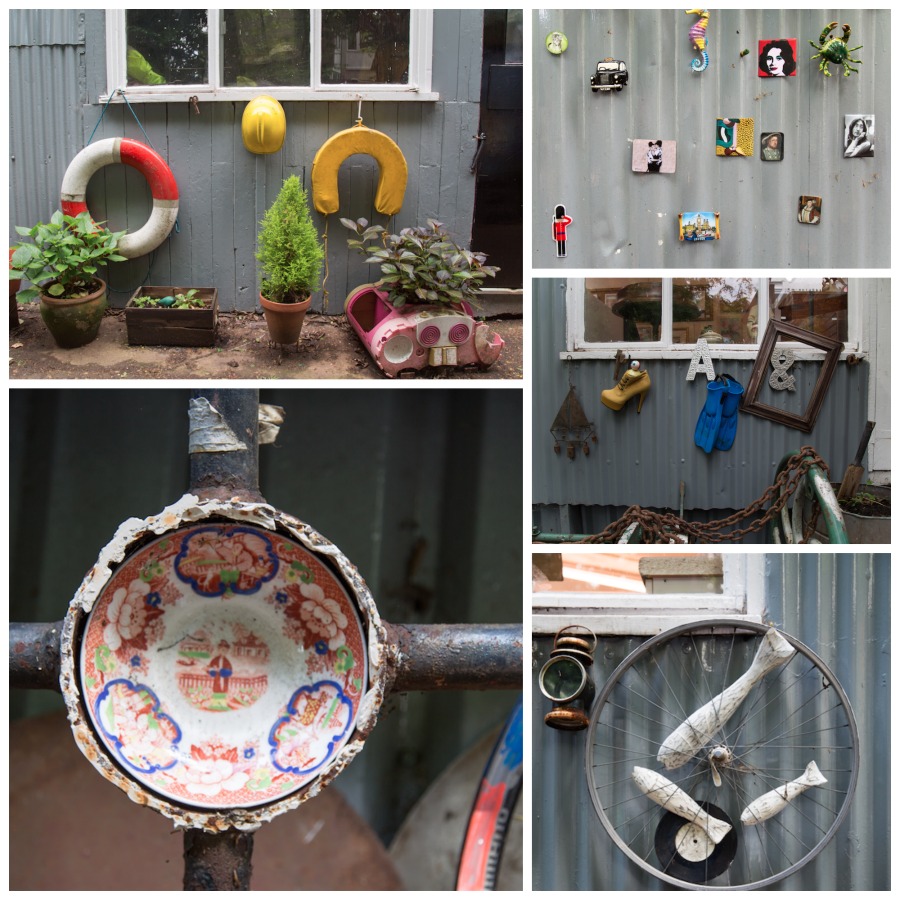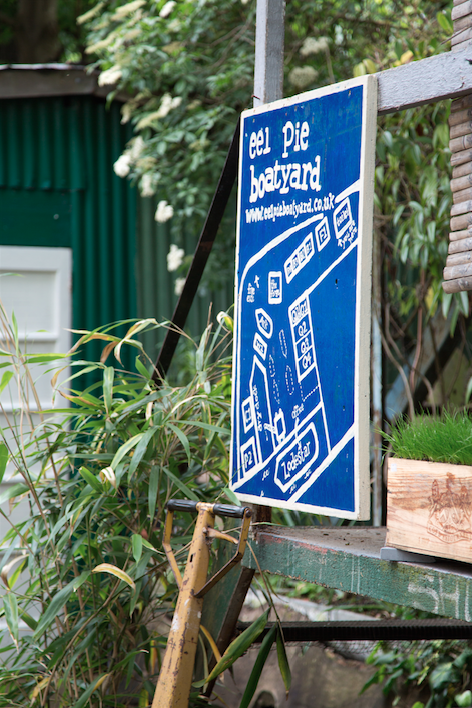 A few days after these photos were taken, additional items had vanished, including some of the magnets and the yellow shoe seen here. This time, Ann has decided to leave red stickers with big black question marks drawn on them in the places where the items once were. The story continues.
The doll's house (still untouched at the time of writing) will be on display during the upcoming Open Studios events in June and July (details to follow).
Words and photos by Stephanie Sadler, Little Observationist.