Mosaics – Fine Craft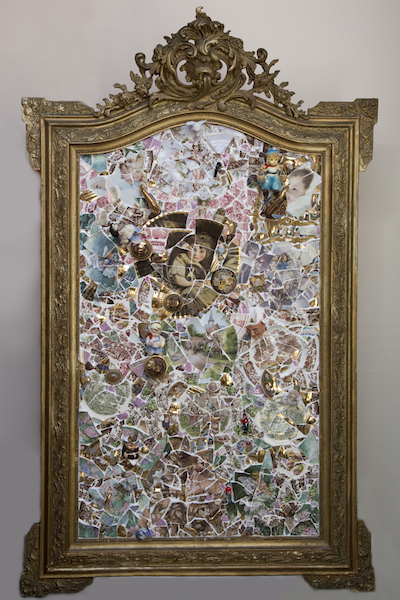 "Stories Told in Gold"
I am intrigued by our "throwaway society" in which the spirits of objects are lost, yet still intertwined with memories. Objects of desire, collectables from one's lifetime create wonderful memorabilia. They are not appreciated as much as they used to be; a "we must have the latest" notion is thrown at us constantly through today's technology. The essence of our ancestral history, hidden in these objects, slowly slips away through generations. I am also fascinated by my British heritage and culture, an amalgamation of many that intertwine, creating a richness that should be celebrated. We must preserve our cultural heritage and family history. Our past is as important as our future and often leads the way. My mosaic art is inspired by this sentiment.
I start with a frame, which could be a gilded gold Florentine frame from mid-18th Century. I collect a variety of antiques and other collectables that were once cherished. Some are very tactile, unusual or quirky. I may have a theme, but I concentrate on composition. Some items, like plates and cups, are purposely broken; others are incorporated as they are. When I break a plate or object d'art, I never know what will happen; the breakage dictates where it will be placed in the final composition.
My life is like a mosaic; little fragments of memories, traditions and family histories.
Yet despite all, my heart sings in a quiet whisper.
Sculpture – Juxtaposes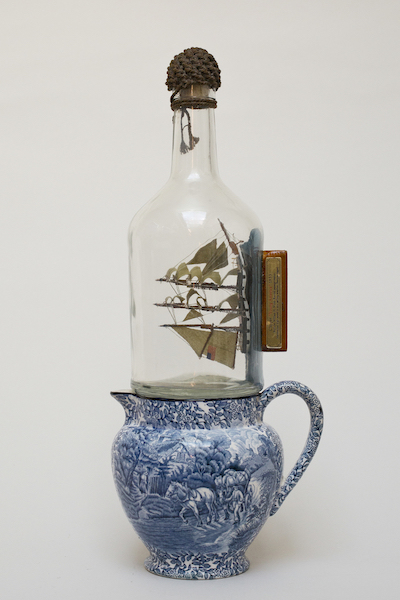 "Farewell My Sweet England"
My sculptures, which I call 'Juxtaposes', show at times my playful sense of humour; my eccentric way of looking at society.
To create my Juxtaposes, I first scour antique shops, antique fairs and auction houses to collect decadent ornaments, bone china, objet d'art, curios and quirky objects that take my fancy. Then, I juxtapose two or three 'objet' together. This may not take long as I am reacting to something I have observed over a long period of time. I could be stimulated by a passing conversation, a radio discussion, a news item, a joke, a word or an image. It will then take me perhaps several days to then give the work a name as this is as important as the sculpture itself.
I realise I am an outsider. I shall always observe. I shall always be an intuitive artist who is responding more and more to global issues such as the environment, stress within our different social groups, global communications and how tradition has gone into commercialism.
Yet despite all, my heart sings in a quiet whisper.
Painting Collections: "Repetitivescapes"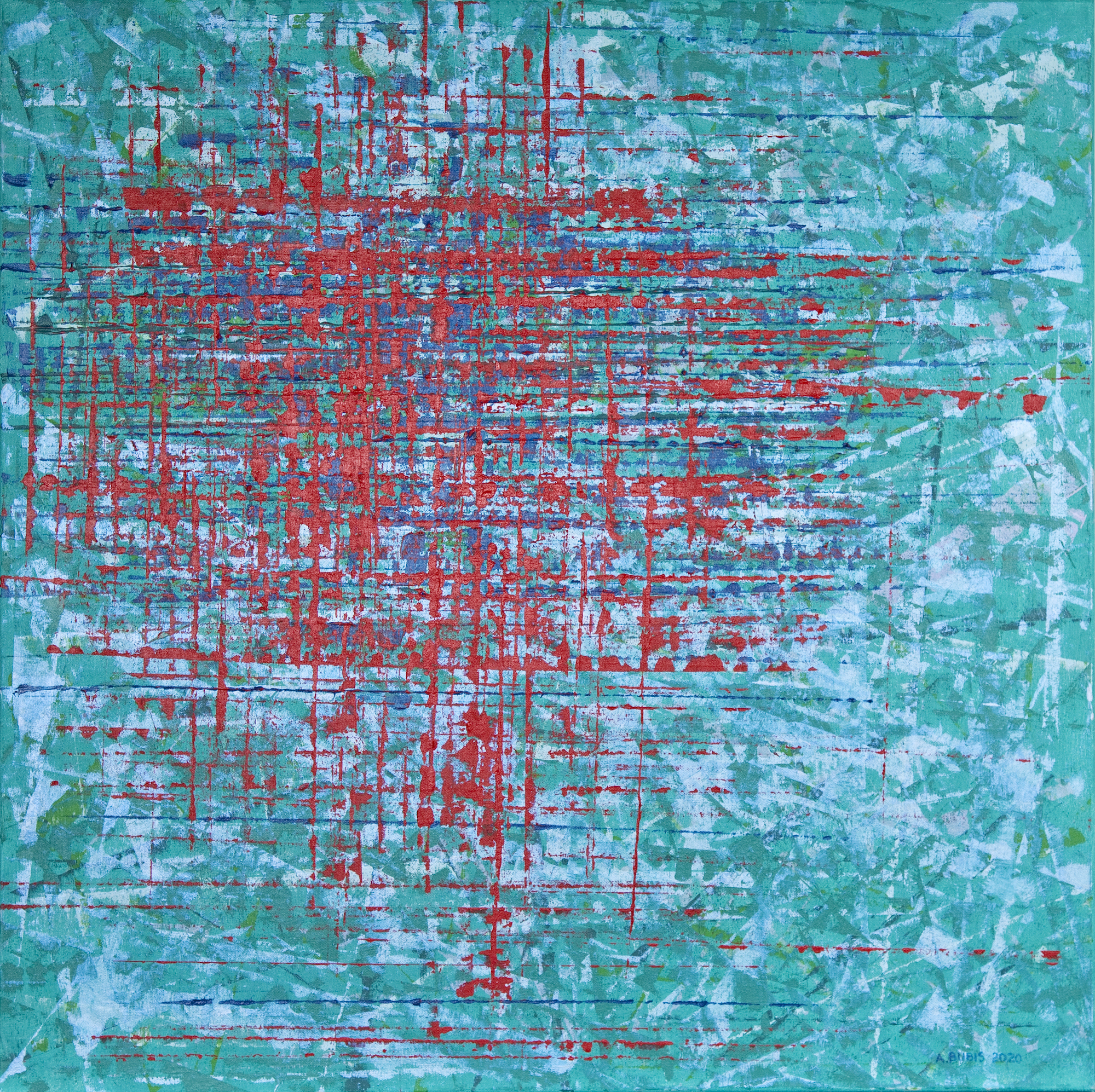 "Repetitivescape 1"
In the Repetitivescapes collection, I am exploring my continuous fascination with the intersection of horizontal and vertical lines. In this series of acrylic on canvas paintings, I've used interference colours to add movement, depth, contrast, and interest. These lines disrupt each background by stuttering across the foreground where they merge to create a never-ending energy, pulsating with a throbbing beat and emanating a sense of chaos. I began painting the Repetitivescapes collection during the Covid-19 pandemic, turning to art to express the sense of anxiety, disorder and confusion that permeated our world during this time.
Yet despite all, my heart sings in a quiet whisper.
Painting Collections: "Rhythmscape Requiem"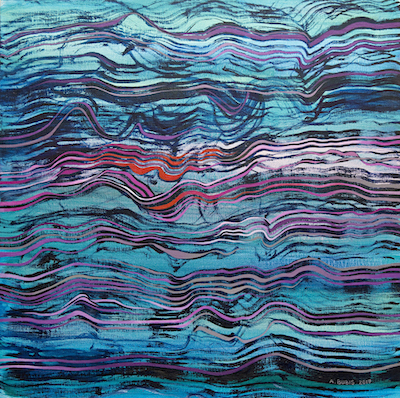 "Rhythmscape Requiem 1"
In painting the "Rhythmscape Requiem" series, I am creating visual music using a variety of layers. In the background, there is a reflective surface created using interference colours that give off a luminosity which changes from greens to pinks or reds to blues depending on the time of day. It looks different in the morning than it does at noon and different still in the evening light. These subtle touches mimic the delicate approach of nature. The next few layers are crisp, interweaving lines painted in matt colours which have their own spontaneity, a mass of contrasts to the background.
I wish to hypnotise the viewers so they feel like they are looking at the rhythms and patterns of everything around them. The Japanese term "Kami" means "the energy generating a thing". "Kami" exists in nature, rivers, places and people. "Kami and people exist within the same world and share its interrelated complexity."
Yet despite all, my heart sings in a quiet whisper.
Painting Collections: "Smitten Symmetry"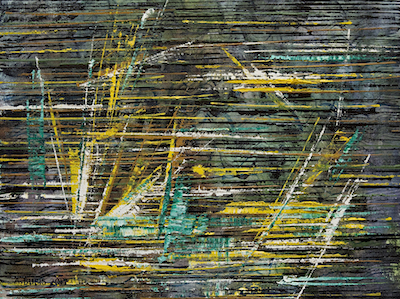 "Smitten Symmetry 1"
With the "Smitten Symmetry" series of paintings, I am portraying my anxiety about our world today. We need to be more caring. We are moving too fast through life without thinking of the outcomes, much to the detriment of our surroundings and our society. With urban architecture overtaking green spaces, children of today's generation are losing the magic that comes from playing in and observing nature. A quarter of all plant species are currently faced with the threat of extinction.
Yet despite all, my heart sings in a quiet whisper.
Painting Collections: Abstract / Realism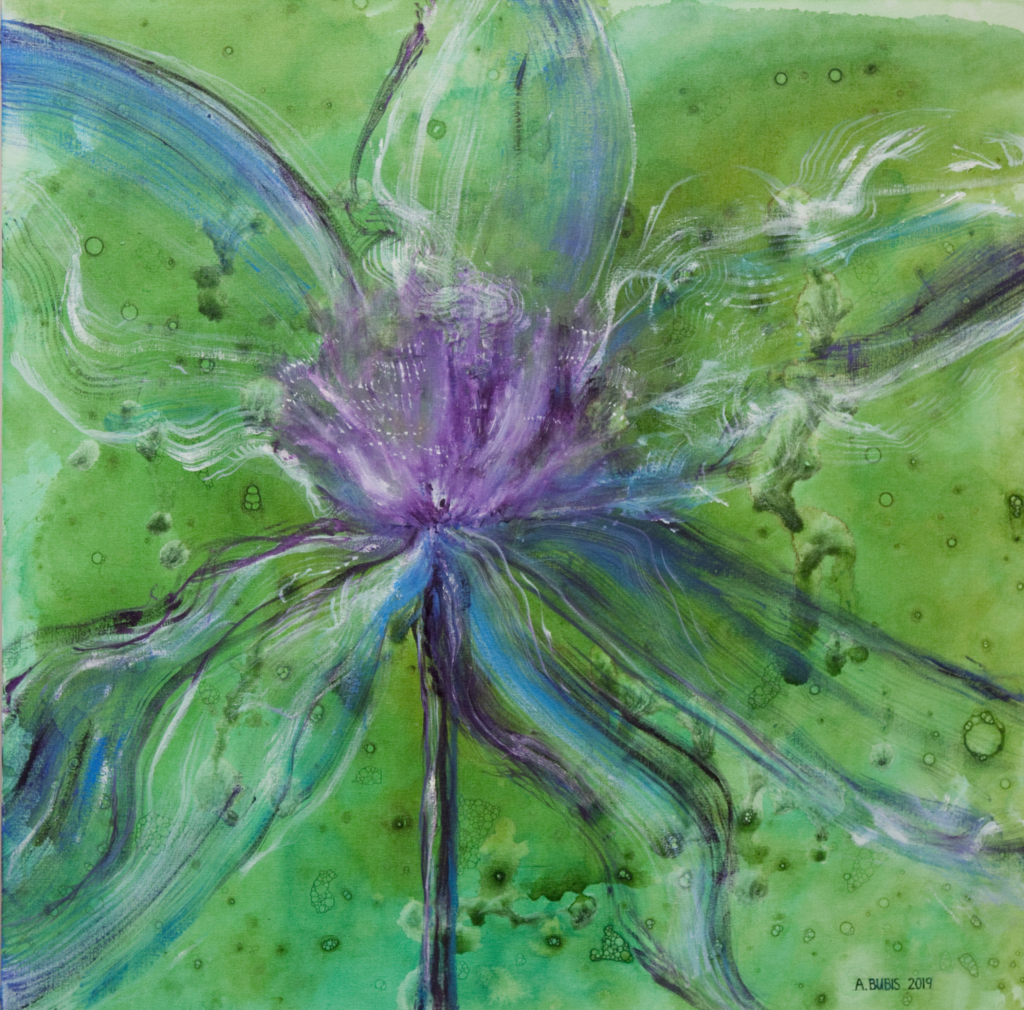 "Iridescent Joy"
With the following paintings, I wish to encourage my audience to be aware of the sensuous beauty of nature and simply care more for the environment we live in today.
Yet despite all, my heart sings in a quiet whisper.
Painting Collections: Early Work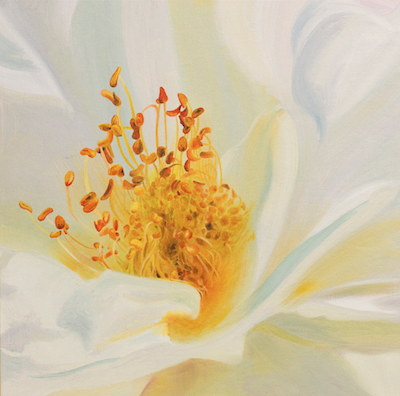 "Precious"
With my earlier paintings, I began with observational studies. These are simple compositions in oil, painted straight onto the canvas and alluding to the beauty of flowers and plants.
Yet despite all, my heart sings in a quiet whisper.